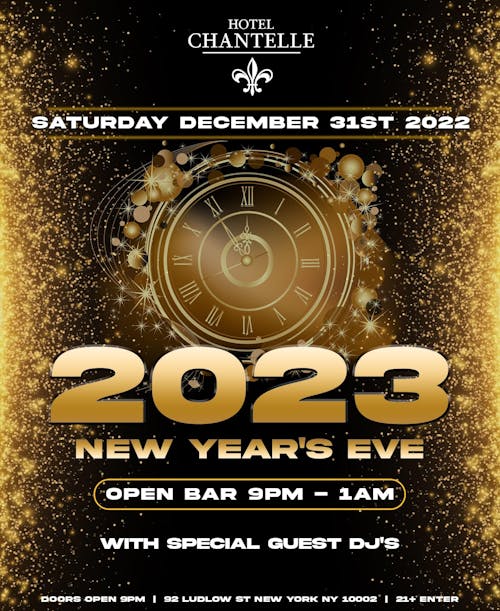 Hotel Chantelle New Year's Eve 2023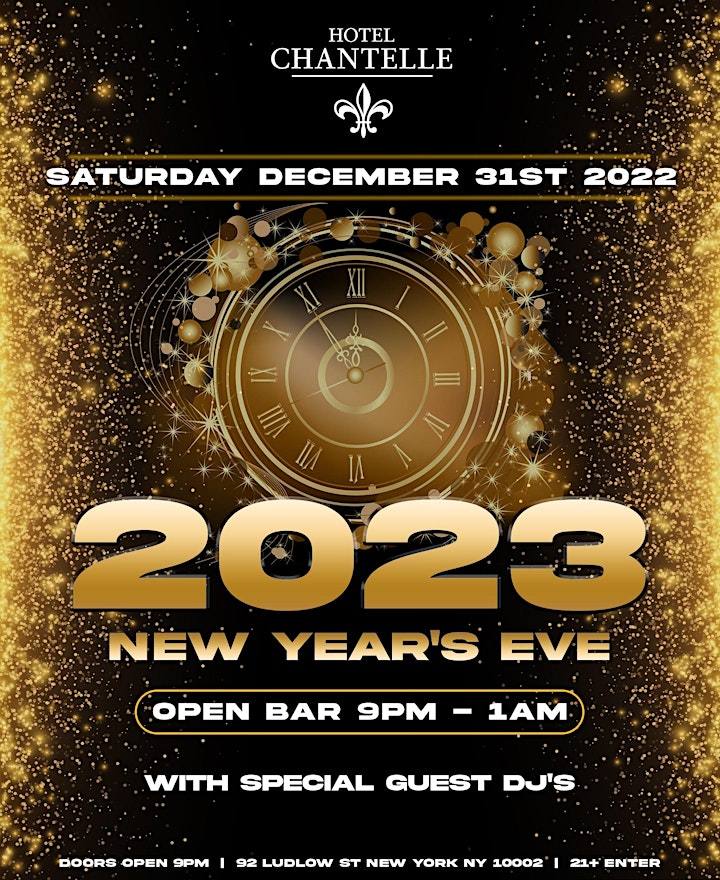 Hotel Chantelle New Year's Eve 2023
—————————————
Celebrate NYE at Hotel Chantelle
***4 HOUR OPEN BAR  9pm-1am ***
—————————————
Located in the heart of the LES, Hotel Chantelle continues to be one of the most sought after venues in all of NYE nightlife! Curated elegance with a downtown vibe, music and crowd, The scene behind the iconic red doors never disappoints. Gather your best friends and your new year's resolutions for the biggest night of the year! Whether you choose to dance the night away in Bon Bonniere, The Lobby or shake something up on our enclosed rooftop, you are sure to bring in the New Year in style!
—————————————
Lets all have one last drink to 2022! You have all next year to be good, and only one last night to be bad. Make it count!
—————————————
Code of Conduct:
Reservations do not guarantee access to the event. The responsibility and integrity of the event is based on the door man's discretion. Additionally anyone who jeopardizes the safety and integrity of this event will be denied access and or will be asked to vacate the premises.
Coat Check:
Coat check will be available for all guests at an additional fee of $5. Guests seated at a table that evening will receive a complimentary coat check . We kindly ask that you do not bring any large bags/parcels (ie:suitcases) to the event. As they will not be allowed into the venue.
Dress Code:
The dress code at Hotel Chantelle is typical of other NYC venues. Guys; kick it up a notch. Dark denim and tees are acceptable, but not baggy sweatshirts, cargo pants, or sneakers. Ladies, avoid ripped jeans and flip flops. This is the perfect place to showcase a hot new dress or skirt. The doormen at Hotel Chantelle may deny you entrance if you aren't dressed appropriately, so be sure to follow the dress code guidelines!
—————————————
If you have any questions or concerns about your reservation and or information in this email, please don't hesitate to contact us! We look forward to hearing from you for confirmation.
—————————————
Must be 21+ with valid ID. All sales are final. No refunds.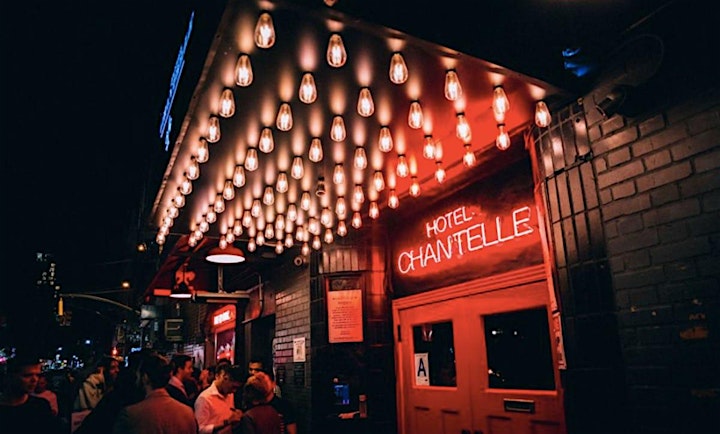 Venue Information:
Hotel Chantelle
92 Ludlow Street

New York, NY, 10002